She Shed Ideas: 6 Design Styles to Personalize Your She Shed
| Fact Checked By: Lamont Robbins

Published: April 8, 2020 | Updated: October 22, 2021

Children have tree houses, and men have man caves, but where can women let their hair down, and just relax? In their she sheds, of course! But how does a plain shed become a she sheer she shed? With the right walls, flooring, and style, your she shed ideas can go from plain to eye-catching!
Start planning and designing your backyard retreat with these she shed ideas. Explore what makes a she shed, discover what design style works best for your own shed, and find unique wall fixtures and handy flooring so your gorgeous backyard oasis is an expression of you!
What is a She Shed?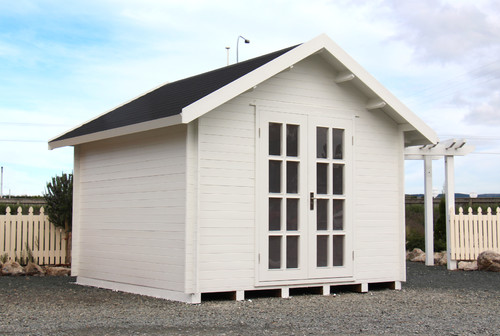 Simply put, she sheds are equivalent to man caves. She sheds are a place to do exactly what you want, free of the responsibility of anyone, except yourself, all in the comfort of your backyard. 
The whole idea is to buy or repurpose a shed for your backyard to be an expression of you. Be it dark, spooky colors, every color in the rainbow, or a play on a gingerbread house, a she shed is there to be an extension of everything that makes you happy. 
The cool thing about designing your she shed is that it all comes from within. Let your style shine on your shed and create a paradise of your own.
She Shed Style and Design
Now let's get to the fun part, designing your super awesome she shed! Here, we will talk about she shed style options and our top products that work best for the style and design that fits you! From a clean modern style to an eclectic boho chic, let your style and personality shine!
Related content >> Trailer Flooring Buying Guide
The Modern She Shed
Photo Credit: Houzz
Inspired by early 20th-century design, modern design is a style of decor that focuses on minimalism, neutral colors, and clean design lines. The furnishings and decor use neutral materials and earthy colors while eliminating unnecessary detailing, to ensure excellent comfort as well as utility. With a modern design, furniture's use is just as important as it's style and comfort. 
How can you accomplish this style in your she shed? If you think the modern style is your cup of tea, you'll want to find very edgy, straight-lined furniture, with a monochromatic color scheme. The key to modern design is no pops of color. It all needs to be streamlined to those earthy almost muted tones. 
Related Content >> How to Choose Flooring to Fit Your Style
Modernize Your She Shed
Need some help with some modern touches in your backyard oasis? Check out our top flooring and wall treatments to make your shed a modern getaway!
Felt Right Shiplap Acoustic Wall Tiles

Acoustic Wall Tiles are the modern she shed game-changer you've been waiting for. With minimalist designs, subtle textures, and natural color palettes, acoustic wall tiles add an earthy feel that modern design is known for. You can create a simple, eye-catching accent wall in your backyard retreat by simply hanging these tiles directly onto the wall with their DIY-friendly adhesive tabs. Then watch as your room transforms into the modern dream you always wanted. 
New Standard 2 Rigid Core Planks
For a simple, modern style floor, waterproof vinyl planks can be your she shed's perfect match. The muted, natural look of the new standard vinyl planks will add a clean-cut, natural element to your shed. Simply lock the planks together to install your new modern she shed floor! Don't worry about water damage either, these planks are waterproof.
TritonCORE 7″ Waterproof Vinyl Planks
Another option for waterproof vinyl planks, TritonCORE vinyl is the way to go. For a wood floor with some character, these planks add a weathered, natural touch with no trouble at all. This would make an excellent addition to your classic, modern she shed. 
The Contemporary She Shed 
Photo Credit: Sweeten
Contemporary style encompasses a range of styles developed in the latter half of the 20th century. While certain elements of contemporary are similar to modern, contemporary focuses on the present and future design with metals, and glass. You'll also notice that contemporary adds more curve. It's not as straight-edged as modern. Think of contemporary as industrial, and very clean but in a futuristic sense.
If you're wanting a more contemporary style of she shed, your color palette will focus on black, white, and gray with hints of moody colors such as maroon, or a deep indigo. Furniture will more than likely be metal, yet very light and airy.  
Related Content >> Create Your Dream Garage in 10 Easy Steps
Make Your She Shed Contemporary
Is contemporary the direction you want for your she shed? Great! We have some awesome contemporary floor and wall options to get you and your shed where you want to be! 
Typically found in a garage, these rolls and tiles are made of polyvinyl or PVC, making them flexible, durable, and low-maintenance. This soft PVC roll can add a wonderful contemporary element to your shed floors thanks to the color, and material. It will give that industrial vibe you might be looking for. 
Stone Look WallGrip Peel & Stick Vinyl Wall Tiles
To give your she shed ideas a touch of depth, simply peel and stick stone-look vinyl wall tiles to the wall of your she shed. These wall tiles are easy to install and perfect for that moody, industrial she shed you're dreaming of. Using a gray stone visual on your wall will add to that black, white and gray color scheme too!
Homak Industrial Steel Workbench
For even more of that contemporary style. Consider adding a cool steel table to work on. The steel material and the color scheme of this industrial work table will take your she shed ideas from ordinary to sleek. 
Related content >> Laminate vs. Vinyl Flooring
The Mid-Century Modern She Shed
Photo Credit: digsdigs.com
As the name states, mid-century modern design was inspired by the middle of the 20th century. The best way to describe this design style is modern and contemporary design's funky cousin, a bridge between the two styles. While it still has the elements of modern design- clean lines, uncluttered, and functional- mid-century modern also has a little flair. 
With this design style you will still see clean lines, but with more geometric shapes incorporated. You'll also use some different contrasting materials such as plastic, metal, glass, and vinyl, as mid-century modern blends the traditional (as in, wood), with the un-traditional. 
If you're a fan of a little bit of color and a little bit of modern, mid-century modern might be for you! Mid-century design uses a vast range of colors, including colors from neutral to bold, and graphic use of black and white.
For Your Mid-Century Modern She Shed
Is mid-century modern calling for your she shed? Take a look at some mid-century inspired products for the cherry on top of your beautiful, womanly getaway.
12mm Mannington Palace Waterproof Laminate
Let's add that wood geometric style to your she shed floor! Beautiful interlocking waterproof laminate planks will help your she shed ideas encompass the mid-century modern style. Thanks to the natural beauty of the wood visuals, these planks have the perfect blend of modern and contemporary! 
8mm Strong Rubber Tiles – Designer Series
If you're not feeling the wood-like floor in your mid-century she shed, play with different material floors to really add that mid-century umph! With interlocking rubber tiles, you can get that neutral floor with small flecks to add depth to your she shed while maintaining the mid-century modern style you love!
For the perfect blend of modern and contemporary, this work station can be the focal point of your mid-century she shed. With a wood top and metal frame, you can have a stylish, functional workstation. 
Related content >> Cheap Flooring Ideas
The Rustic She Shed
Photo Credit: comfydwelling.com
When you hear "rustic design" you might think of a log cabin in the middle of nowhere. In reality, rustic is a pretty broad term for any sort of natural, aged, homemade design. It's a more laid back, cozy version of a design that emphasizes rugged, natural beauty. It embraces nature-inspired textures, simple and earthy colors, and ultimately an unpretentious, organic warmth.
Furniture is usually oversized and simple in design and shape, letting the materials stand out instead. Heavy wood furniture, made from raw logs, boards, and stone is common. You can have a backyard, cozy cottage with warm, natural elements. 
Related Content >> How to Design Your Dream Garage
Rustic She Shed, Please!
Are you feeling the rustic vibe for your she shed? To get started on the right foot, check out some of our rustic-inspired flooring and wall treatments!
To add that special nature element to your rustic she shed ideas, consider creating a live wall full of greenery with artificial plant decor. Artificial plant decor leaf panels feature the realistic look of real plants so you can have stunning accent walls that require no upkeep. Simply hang them on your wall in whatever pattern you want and enjoy.
For a distressed look in your rustic she shed, consider distressed engineered wood flooring. These planks give a realistic wood feel to your floor thanks to their surface and real wood veneer. So you can have natural-looking wood flooring to add that extra sense of warmth to your she shed. 
Emser Tile Venetian Flat Pebbles
Have you ever considered a stone accent wall? Think of the beautiful rustic tone you can add to your she shed by adding flat pebbles to the wall. This can add a cozy, cottage-like element to your she shed.
Related content >>  Accent Wall Ideas
The Shabby Chic She Shed
Photo Credit: Houzz
Shabby chic (or rustic chic) is a more refined rustic design style. Still inspired by natural elements like wood or stone, shabby chic is made to look more antiqued or aged. So a lodge-like charm with a modern twist. 
You can combine distressed floors or furniture with new decor and voila, you have shabby chic! The main consideration is to tastefully mix bold, with vintage. Like the rustic style, the furniture will be heavy, or overstuffed. However, the coziness comes from the warmth of the walls and floors. Shabby chic is meant to hug you with a modernized warmth.
Ready to have a Shabby Chic She Shed?
Can you say "shabby chic she shed" five times, fast? It's okay if you can't! All that matters is that you have the right flooring, walls, and decor to achieve that modern, rustic vibe that shabby chic has. Check it out!
Mannington Revive 12′ Luxury Vinyl Sheet
For the vintage-chic element, Mannington's decorative vinyl sheet can give your she shed an unexpected flooring twist. By simply laying out the vinyl sheet, you can add chic character to your shed in no time. No glue required!
Hobnail Carpet Tile – Designer
Carpet tile can add an element of coziness and style to your shabby chic she shed ideas. Being mold and mildew resistant, these carpet tiles are excellent for adding the perfect amount of shabby, yet sophisticated warmth. Simple peel and stick the tiles to your shed floor!
Wood-look wall tile is the exact elegance your shabby chic she shed needs. Creating an accent wall of wood-look tile can pull the entire space together with its unique character. This blends the old-school wood look with the sleek wall tile trend that everyone loves!
Related content >> Rubber Garage Flooring: What You Need to Know
The Bohemian She Shed
Photo Credit: Livinator.com
Some of you might not jive with the clean-cut, streamlined design style. That's where the bohemian design style comes in! For the more eclectic people, the bohemian style is bright, patterned, and unique. Encompassing several design styles such as modern and rustic, the boho style adds its twist with bold patterns and colors.
To make a space bohemian, it's all about the layers. Starting with a neutral subfloor, then add low-set, cozy furniture, some antiqued tables, patterned area rugs, a funky ottoman, unique art on the walls, and maybe some fresh plants, then you're set! This design style is made for the free-spirited and unconventional. 
Make my She Shed Bohemian!
Does the boho style speak to you? Find the perfect flooring, and wall fixtures to make yourself a backyard, bohemian getaway in no time!
To start with a plain base, premium HD soft tiles give you the perfect starting point to add layers to your bohemian oasis. These soft tiles are durable, comfortable and ready to help you create depth to your layered, bohemian she shed. 
Hobnail Granite Indoor/Outdoor Area Rug
For added texture, you can layer an area rug to start building that eclectic laid back style. This indoor and outdoor area rug can start your bohemian she shed ideas out right with cool colors and textures. 
FloorAdorn Self-Adhesive Vinyl Sticker
Add a pop of pattern on your she shed walls to create the fun, unconventional boho style. These self-adhesive vinyl tiles come in a variety of patterns so you can create a special design for an accent wall. Voila, your shed is bohemian!
Related Content >> 20+ Garage Theme Ideas
Conclusion
Design, check! Walls, check! Floors, check! What's next for your she shed ideas? Oh yeah, the BEST part: making it your own! Whether you're into the modern, bohemian, or somewhere in between, let your personality and style really shine in your beautiful personalized she shed.
Follow Us