She Shed Ideas: 5 Design Styles to Personalize Your She Shed
| Fact Checked By: Lamont Robbins

Published: April 7, 2022 | Updated: March 30, 2022

Planning to transform your plain shed into a stylish she shed? With the right walls, flooring, and style, your outdoor space will perfectly match your style. Start designing your backyard retreat with these she shed ideas.
Discover what design style works best for your shed, and find flooring and wall accents to make your backyard oasis an expression of you!
What is a She Shed?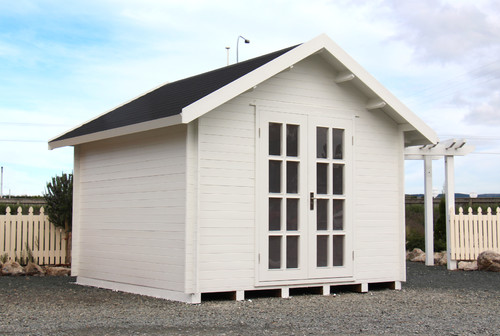 A she shed is like a man cave, a place to relax and enjoy your hobbies. The idea is to buy or repurpose a shed for your backyard, and decorate it to let your style shine. If you need some inspiration, explore some of the trendiest she shed ideas to get started.
She Shed Style and Design
Check out the latest styles and find top recommendations to fit your aesthetic.
Modern She Shed
Photo Credit: Houzz
Modern style focuses on minimalism, neutral colors, and clean lines. The furnishings and decor use neutral materials and earthy colors while eliminating excessive detailing. Utility is just as important as its style and comfort. 
For this design, look for straight lines and a monochromatic color scheme. The key to modern design is no pops of color. It all needs to be streamlined to those earthy, almost muted tones.
Top Recommended Products
Mid-Century Modern She Shed
Photo Credit: digsdigs.com
Inspired by mid-20th-century design, this style includes some elements of modern design – clean lines, uncluttered, and functional. But you'll also see more geometric shapes and contrasting materials such as plastic, metal, glass, and vinyl.
Mid-century modern style blends the traditional with the un-traditional. 
Top Recommended Products
Rustic She Shed
Photo Credit: comfydwelling.com
Rustic is a broad term for natural, aged, homemade design. It's a more laid-back, cozy style that emphasizes rugged, natural beauty. It embraces nature-inspired textures, simple and earthy colors, and organic warmth.
Furniture is usually oversized and simple, letting the materials stand out instead. Heavy wood furniture, made from raw logs, boards, and stone is common.
Top Recommended Products
Shabby Chic She Shed
Photo Credit: Houzz
Shabby chic (or rustic chic) is a more refined rustic style. Still inspired by natural elements like wood or stone, shabby chic is made to look more antiqued or aged. It's a lodge-like charm with a modern twist. 
This style combines distressed floors or furniture with new decor, to create a mix of bold and vintage looks.
Top Recommended Products
Bohemian She Shed
Photo Credit: Livinator.com
The bohemian style is bright, patterned, and unique. To get the boho look, focus on adding the layer of style. 
It typically features neutral walls or flooring, cozy furniture, antiqued accents, patterned area rugs, and unique art. 
Top Recommended Products
Conclusion
No matter your style, you can create the perfect getaway with the right flooring and furniture. Now that you have some she shed ideas, get inspired by ordering some free flooring samples.
Follow Us