9 Patio Ideas: Create the Ultimate Outdoor Space
| Fact Checked By: Sonal Agarwal

Published: February 9, 2021 | Updated: March 17, 2022

Tired of your patio just being a concrete slab? Everyone dreams of having an outdoor space solely dedicated to having fun. But starting with a blank canvas can be a little overwhelming. That's when you need some patio ideas for a makeover. 
Whether your patio connects to your backyard, you have a screened-in porch, or you only have a balcony, your outdoor living space can be something spectacular. All you need is a little imagination, and of course the right flooring and balcony furniture. Let's dive into some patio inspiration to find what you love. 
Zen Patio Makeover
Perhaps you want a space that is just for comfort and coziness so you can read, or just sit out in nature. 
For a space to enjoy the quiet, to meditate, or even to practice yoga, add a patio area rug, candles, and whatever makes you feel at peace. This kind of patio doesn't require much, just some ambiance, gorgeous patio flooring, and low-maintenance patio furniture. 
Get Peaceful on Your Patio
Start your space off right with some zen-inspired outdoor flooring options.  
Get cozy on your zen patio with carpet tile. Available in a variety of colors, this soft, durable carpet is mold, mildew, and moisture resistant. 
Perhaps you prefer a hard-surface patio flooring. Helios deck tiles are the perfect choice to elevate your zen space with beauty. Add some candles and greenery and you've got a peaceful garden-like patio feel. 
To tie your peaceful patio together, roll out a gorgeous patio area rug. Resistant to stains, water, mold, and mildew, this area rug will help your cozy patio become the best area of your home. 
Pet Patio Makeover
When you live in a home without a backyard, it's hard to keep your pets entertained. But if you have a balcony or a patio, there are ways to give your four-legged friends the space they deserve!
To make the most of your outdoor space, you can makeover the balcony to create a miniature pet park for your furry friend. With artificial grass rugs, tiles, and rolls, all you need are some treats to help your pet sit, stay, and love your gorgeous pet patio. 
Ready to Learn Some New Patio Tricks?
Create a comfortable pet patio for you and your animal friends with some patio-friendly artificial grass options. 
So your pet can relax and play hard on your patio, check out a convenient, pet-friendly turf rug. This rug is perforated for excellent drainage and looks and feels like real grass. Install it on your patio, and enjoy watching your pet play. 
Helios Artificial Grass Deck Tiles
If you want to set up a small patch of grass for your pet to enjoy, why not use interlocking artificial grass tiles? These tiles create a patio and both you and your pet will love. They have a simple setup and can also be connected to Helios composite deck tiles. Plus, they're designed for optimal drainage. 
To store food bowls, treats, and toys for your four-legged pal, grab a stylish, low-maintenance storage box. Available in two colors, this patio storage box will help keep your pet accessories organized and safe from the elements. 
Outdoor Kitchen Patio
Picture it: preparing and eating your delicious meal in the comfort of your backyard on a beautiful day. For an outdoor patio kitchen, you'll need a grill, some cabinet storage space, and a beautiful dining area, then you're set.
But first, the flooring! For your outdoor kitchen idea, start with durable flooring that's also stylish. 
This patio makeover idea will take a little bit more than flooring and furniture if you don't already have kitchen equipment in your backyard. If you're building your patio kitchen from the ground up, it's a bit more involved but so worth it!
Ready, Set, COOK on Your Patio!
If you're ready to revamp your outdoor kitchen, consider some stylish flooring and storage options to top it all off. 
To get a comfortable, kitchen ready rubber floor, Flagstone rubber pavers are an awesome choice. Both slip and shock absorbent, these pavers are durable and gorgeous. Available in a variety of colors, these pavers will make your outdoor kitchen supportive and stylish. 
No one wants bugs in their kitchen, indoors or outdoors. Luckily our composite deck tiles don't attract bugs, so you don't have to worry. These tiles interlock and are super simple to install. Once installed, sit back and enjoy the compliments on your new outdoor kitchen floor.
To add some character to your outdoor kitchen, grab an outdoor area rug. Made with excellent durability, outdoor area rugs effortlessly add style to your outdoor space. Resistant to stains, water, mold, and mildew, this rug lets you cook worry-free knowing your patio kitchen looks awesome.
Patio with Fire Pit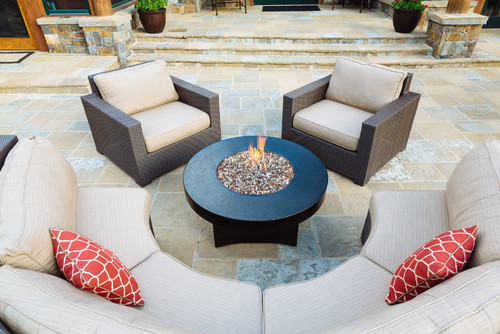 If you love the smell of a warm fire on a crisp evening, why not have a patio with a fire pit? Whether it's a stand-alone fire pit you bought or a pit you made yourself, you can have a relaxing atmosphere on your patio, no problem. 
The most important part of having a fire pit patio is ensuring proper ventilation for the fire, and having a fireproof surface surrounding the pit. Once those elements are secured, gather 'round with some comfy patio furniture and learn some campfire songs in the comfort of your back patio. 
Pro tip: If you want to build your own firepit, start with an internet or Pinterest search for "DIY fire pit" for even more inspiration. 
Fire Pit Patio Flooring Favorites
If you're loving the idea of a fire pit on your patio, check out some of our favorite flooring options that will pair perfectly with a charming, warm patio. 
Emser Tile Venetian Flat Pebbles
If you want to seriously upgrade your patio, consider an outdoor tile to surround your cozy fire pit. Made of gorgeous honed natural stone, this patio flooring will add more even more character to your stylish patio with a fire pit. 
For a brick-like paver, check out our cool paver tiles. Slip-resistant and water permeable, these tiles are not only durable but also low-maintenance. Adding comfort and effortless style to your cozy fire pit area will be a breeze. 
Pool Patio Design
To enjoy your pool on another level, consider revamping your patio to be a dedicated poolside patio. Include storage for pool toys, and install slip-resistant patio flooring to create the perfect relaxation space after a long day.
Whether you're swimming, having a water balloon fight, or simply enjoying the outdoors, a pool patio adds a gorgeous outdoor oasis to your home. 
Just Keep Swimming!
Marco! Polo! Begin your poolside patio quest by checking out our stylish flooring and storage options. 
These flexible PVS outdoor tiles are easy to install and maintain. Because they are vented, they allow moisture to drain easily and prevent standing water. Plus, they are UV-stable (meaning they won't fade in the sun) and are comfortable underfoot.
To get a comfortable, slip-resistant poolside patio floor, rubber pavers are the right choice. More shock absorbent than brick, these pavers are durable and gorgeous. Available in a variety of colors, these pavers will make your patio eye-catching and ready for anything. 
Store your pool noodles, goggles, and more outdoor accessories in this convenient patio storage box. Choose from a brown or black box and keep your poolside patio organized.  
Enclosed Patio
An enclosed patio is a great way to admire the outdoors in any kind of weather. Be it a rainy day or a crisp fall morning, enclosed patios (a.k.a sunrooms) are the perfect compromise to enjoy your backyard without worry. 
To makeover your enclosed patio, or just to give it a little TLC, some new flooring and furniture will get the job done. If you're feeling inspired, you can convert your interior patio into an office of sorts, where you can read, journal, or just enjoy some alone time. 
Enjoy the Outdoors, Inside!
Regardless of how you choose to update your enclosed patio sunroom, get started in the right direction by choosing some excellent flooring. 
Since an enclosed patio is more indoors than out, shake it up by adding durable outdoor carpet planks. Choose your color, easily install the carpet, and watch how it hangs tough against mold, mildew, stains, and moisture.
Gingham Indoor Outdoor Area Rug
Want an area rug that is not only UV stable but also resists stains, water, mold, and mildew? Have it all with this patterned outdoor area rug. Stylish, fun, and durable, what more could you ask for in your upgraded enclosed patio?
Pacific Artificial Ivy Wall Panel
Bring the fresh outdoors into your enclosed patio with artificial plant decor. You can easily install these realistic plant panels on interior walls to add a natural vibe to your space. 
Large Patio Makeover
Large patios can be more multi-purpose than other patios. You have enough space for sun-bathing, star-gazing, and everything in between. Now, you just need to make the most of it! Have a large umbrella to block out the sun, a firepit in the corner, and some lounge chairs to kick back and relax. With the right flooring and furniture, your patio will be neatly tied together into one cohesive space. 
Start Your Dream Patio
However you decide to use your open-concept, multipurpose patio, make sure you find the perfect flooring to start on. 
Start your multifunctional patio with low-maintenance beautiful patio flooring like Helios Deck Tiles. These tiles are built to last, and they resist fading and damage from all kinds of weather. 
Helios Artificial Grass Deck Tiles
For a simple setup and effortless comfort these interlocking artificial grass tiles seriously upgrade the look of your patio. Plus, all Helios deck tiles can connect to create fun patterns for your patio flooring. 
Stylish and slip-resistant, paver tiles are the perfect choice for a multipurpose patio. With these pavers, you can enjoy your large patio with no worries about maintenance and style, come rain or shine.
Outdoor Gym Patio
Would you like to work out in the fresh air? With some extra space on your patio, you can start getting into shape in your very own backyard.
Swap out the old patio furniture and make room for gym flooring and exercise equipment, and your patio is ready for some fitness. Whether it's just one area of the patio or you use the whole space for an outdoor gym, you can have a personal gym at your disposal in your backyard. 
Get Your Sweat On!
To meet your fitness goals at home, start by finding the right outdoor gym flooring to get your patio gym off to the right start. 
Start working out on professional-grade gym turf. Easy to install and care for, Performance Turf Rolls will not attract bugs and other pests. So you can exercise and enjoy the fresh air while you work hard on your new outdoor gym turf. 
Enjoy your outdoor workout with some new equipment. This kit is designed to let you fully personalize your workout. It has adjustable and padded foot cradles, upgraded webbing, and custom antimicrobial-treated textured rubber handles. 
Pump iron and get into shape on top of these strong rubber tiles. Available in different colors, and easy DIY installation, your patio gym will look like a professional workout station and be ready to go in no time at all. 
The Entertainment Patio
If you love hosting parties, or just having a fun night with friends, dedicate your patio as an entertainment space. Whether you're hosting a dinner party, a dance party, an outdoor movie night, or a game night, let your patio be setting for all the fun!
The trick is to have functionality in all parts of your patio. For instance, if you want to host a dinner followed by a game night you'll need patio furniture that's easy to maneuver, and space to store the games when you're done. 
Once you make space and stylishly incorporate patio storage, all you need is a low-maintenance patio floor, and your patio will be the hit of the party. 
Let's get this Patio Party Started! 
To start entertaining right away, consider some of our favorite outdoor patio flooring options along with some patio storage, and of course games! 
Premium Shuffleboard Court Kit
Looking for a fun new game to add to your outdoor game night? Consider a friendly game of shuffleboard on a premium shuffleboard court kit. Equipped with game lines and court tiles, this kit is simple to set up and start having a blast!
Conclusion
From poolside patios to gym patios, upgrading your patio is a fun, simple way to give your backyard a facelift. Once you choose how you want to use your space, it's a matter of finding the perfect flooring, furniture, decor to get it done. 
Well, are you ready to give your patio a makeover? Start shopping for the right flooring and accessories today!
Follow Us