Garage Flooring Buying Guide: Tiles, Rolls, Epoxy & More
By Ari Ziskin

Published: April 9, 2017 | Updated: January 21, 2022

Set the tone for your dream garage with the perfect floor. Learn how to choose garage flooring with our garage flooring buying guide including garage floor tiles, garage flooring rolls, epoxy and more.
I love this part. You've made a lot of the big decisions and you probably have an idea of what you're looking for.
However, if you're like most of us, you've probably never bought garage flooring before. It can seem like a foreign language and I know you want to make sure you make the right choice. It's an important decision. I feel you, man.
We've got you covered. Let's break it down and explore all your options.
Related content –> The Best Garage Flooring of 2017: This Year's Hottest Trends
Okay, so you know how when you're a teacher you're not supposed to play favorites? But you totally play favorites because everyone has favorites? That's how I feel about garage tiles.
I'm not going to ignore the other garage floors or tell them they're stupid when they ask for help, but I do have a favorite. And its name is Tiles, Garage Tiles.
Garage tiles are the easy-to-install solution to complicated designs. Home and shop owners love creating the classic checkerboard look, 8-bit images and countless other looks.
These babies are the most popular among DIYers (Do It Yourself). That's because they're super easy to install either by interlocking with a simple *click* or the even simpler peel and stick options.
Garage tiles can be made of a durable polypropylene (basically a really strong high-density plastic composite), a flexible PVC material (people like this because it feels like rubber underfoot, it's quiet and has some cushion to it), or peel and stick vinyl tiles.
Related content –> How to Create Your Dream Garage in 10 Easy Steps
Garage Floor Tile Highlights
Easy Install

. If you're looking for a DIY installation, you can do this regardless of experience! Trust me. I helped with one recently and I have never installed a flooring in my life. It was a snap – literally – just snap the tiles together! No painter or installer necessary.

Color & Pattern Options

. If you want full control over how your garage will look, this is a great option! Mix and match colors and patterns, add the classic checkered look, or add your own creativity–you have tons of color options in every pattern. Definitely fun for the creative type!

Easy Swap.

Tiles are designed to be chemical and stain resistant. However, if one gets damaged, you're not out the whole floor! Easily swap it out for a new tile and your floor looks like new!
Garage Floor Tile Limitations
Price

.  Modular garage floor tiles have the widest price range of all the garage flooring solutions and can be the most expensive option.  They range from $1.98 / square foot all the way up to nearly $6.00 / square foot.  Like anything, you get what you pay for:  The more expensive the tile, the more expensive the material (usually)  is.
Related content –> All About Garage Tiles
Another popular kid on the block, garage flooring rolls are known for being incredibly low maintenance and a sweet price point.
Garage rolls offer a simple, clean look. They're a great choice if you have a lot going on in other parts of your garage. Like, if you have a mural and 700 pieces of wall art and 13 cars then maybe you don't need a 17 color pattern of floor tiles on the ground?
These are also great if you want a more minimalist look. Of course, you can always achieve that with tiles, too. The rolls just offer a little something different and they are so darn easy. I'm talking, 20 minutes and you have a garage floor.
Garage Flooring Roll Highlights
Ease.

Rolled vinyl flooring a.k.a. PVC flooring is the easiest garage flooring to install.  All you have to do is roll them out, make any necessary cuts with a utility knife and BOOM! Sit back, relax, and enjoy your new floor!

Color & Pattern Options.

Although there aren't quite as many options as garage tiles, garage rolls come in a variety of patterns including coin, diamond and more. You can also pick from several different colors.

Maintenance.

Maintaining vinyl flooring is super simple. All you need to do is sweep or hose off the flooring as needed. As a person who hates cleaning, I find this

very

appealing.

Cost.

Vinyl garage rolls are also one of the lowest cost garage flooring options on the market. Prices typically range from $1.50 – $4.00 / square foot. The cost varies based on the thickness or grade of the vinyl, color (some colors can cost more to make than others), and whether you are purchasing a custom sized or pre-cut roll.
Garage Flooring Roll Limitations
Customization.

Unfortunately, there is no way to make a custom design. You will always end up with a single pattern (coin, diamond, etc.) and a single color floor surface.

Replacement Options.

Although PVC is chemical and stain resistant, what do you do if the roll does get damaged? The answer is (usually) live with it. Or, buy a replacement since you can't just pop out and replace a section (like you can with tiles).

Time to Shine.

The secret about garage flooring rolls is that they don't really look their best for 1-2 weeks. When rolls are shipped, it is not uncommon for flat spots to develop. When this happens, you may roll out your new vinyl garage flooring and see waves in the flooring that don't seem to go away.Don't panic!  It usually takes 1-2 weeks for the vinyl to settle and the waves to disappear. Tiles, on the other hand, look great right away which allows you to brag about your new flooring immediately.  And yes, we brag too. Don't be shy about showing off your new garage flooring!
Related content –> Organized Garage Storage: A Space You Can Actually Use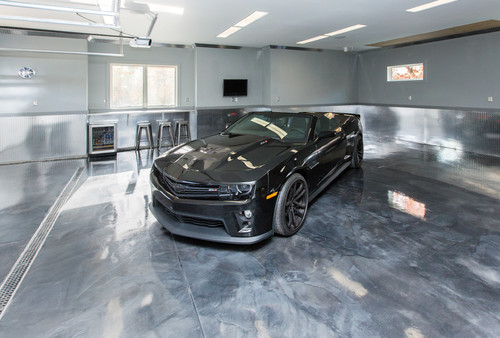 Epoxy is like part glue, part paint, part sealer. Actually, it's all glue. But it does all of those things: paints, glues and seals. And it goes on your floor super easily just like paint.
People love epoxy because, let me tell you, it is cheap. Not, like, cheap quality, but cheap price-wise. Epoxy is one of the most commonly used garage flooring options because it looks great and it doesn't clean out your bank account.
You have so many choices when it comes to color, look and texture that it is easy to get exactly what you want. You can even create your own patterns,  but you should probably be really proficient before you attempt that. Otherwise, it's best to let the professionals work their magic.
Related content –> 20+ Garage Theme Ideas for Your Perfect Space
Epoxy Highlights
Price

. There are epoxy options as low as $0.50 per square foot. What a steal!

Color and texture options

. Just like paint, there are countless color options. Then, you can decide between gloss, flecks, you name it.

Non-slip capabilities

. Some epoxy coatings have an option for an extra non-slip coating. This is great for safety, especially if you plan on working out there with any liquids.
Epoxy Limitations
Preparation

. Epoxy doesn't just let you show up for the date in a t-shirt and jeans. Epoxy is a lady. You have to prep your floor pretty diligently to prepare for the epoxy application. This includes sweeping, pressure washing, grinding and then, sometimes, an acid wash. It's definitely worth it, but if you're a cut-to-the-chase type, it may not be your favorite.

Durability

. Epoxy doesn't always last as long as garage floor tiles and rolls. If your subfloor cracks, your epoxy will likely crack with it. And it's not as simple as reapplying. If your subfloor cracks, you have to fully repair it before reapplying the epoxy.

Customization

. While you have the ability to customize almost endlessly, this isn't really something you can do on your own unless you are a professional. For a DIYer, we recommend just sticking with one look.
Alternative Garage Flooring
With 10+ ways to use your garage, it only makes sense that traditional garage flooring may not be right for everyone.
Of course, you can really put down just about anything if you're not planning on parking your car in there. These are a couple popular options.
The flooring of garage gyms! Well, the flooring of all gyms, really.
Rubber is great because it's perfect for workouts, but you can still park your car on it. Now, let me just say this: your car is dirty. Just because you can park on it and use it for workouts doesn't mean you should necessarily reverse the car then go face down into some burpees.
Also, just say no to burpees…
Anyway, the good news is that rubber is super easy to clean, especially if you purchase nonporous rubber flooring. Also, rubber is not just a gym flooring. It can easily set the space for plenty of fun garage themes.
You can purchase rubber flooring in rolls or tiles in a wide range of thicknesses and color options. Pricing ranges from a crazy low $0.99 per square foot for recycled rubber floors up to and over $4.00 per square foot for designer series virgin rubber options.
Related content –> Rubber Flooring: 5 Myths Busted
Rubber Flooring Highlights
Easy to clean and install

. Just like traditional garage flooring, rubber tiles are easy to interlock together and the rolls just simply roll out. Easy peasy. You can keep your rubber clean by using a gentle cleaning solution. No scrubbing, no laborious cleaning days!

Durable

.

Rubber flooring is perhaps the most durable shock absorbing flooring option available. It can hold up to heavy weights – including the weight of your car. You can expect your rubber floor to last for years to come.

Shock absorbent

. That's how it holds up to all those heavy weights. Rubber flooring is designed to absorb the shock of dropped barbells. It will protect your subfloor so you don't have to deal with cracked concrete, which is expensive and time-consuming to fix.

Multi-purpose

. Like I said, you can use rubber as a garage gym flooring, to park your car, for pets, locker rooms and so much more.

Anti-microbial

.

Rubber is naturally antimicrobial and will not harbor mold, fungi or mildew growth. Score.

Sound dampening

. Rubber is a natural sound insulator so if you plan on working with loud power tools, cranking the music or using your garage as your band practice space, you (and everyone inside) will love rubber flooring.
Rubber Flooring Limitations
Weight

.

Since rubber is so heavy, you may find it difficult to move around. Rubber flooring can range in weight from 1-3 lbs. per square foot. If you're worried about handling the product, check out the rubber tiles rather than rolls. They are smaller and easier to manage.

Temperature insulation

. So rubber will not make your floors feel warm when it's 10 degrees outside. If you're concerned about temperature, you may need to check out some other ways to insulate your garage or check out our floor heating solutions.

Rubber and oil are not always BFFs

. Unless you're using vulcanized rubber, if you have a lot of oil dripping from your car it can break down the glue in traditional rebonded rubber. This can affect the durability and longevity of your floor.
Related content –> 4 Options for Home Gym Flooring
Say whaaat?
First of all, no, I am not recommending you park your car on carpet. To be 100% clear, we never recommend parking your car on carpet.
However, we know not everyone uses their garage to park their car(s). For most nontraditional uses, carpet tiles are a cheap and easy way to add a nice, non-concrete floor to your space.
Carpet Tile Highlights
Durability

. Carpet tiles are built to last and will stay strong until you are ready to redo your garage all over again.

Maintenance

. You already know how to clean carpet. Usually, it just takes a simple vacuum with a good cleaning every 5 or so years. Carpet tiles are even cooler because if you stain or damage a particular tile, you can swap it out, no problem.

Color and design options

. With a multitude of colors, textures and looks, you can easily create your dream look. Don't forget; you can create fun patterns. You don't just have to stick with one color/look.

Softness

. Although most carpet tiles are not your pillowy, plush carpet, it is still a softer flooring option. If you have kiddos that will be running around in there with you, it will be a nice little cushion for them. Also, it just immediately makes the room feel homier. So, if you're going for that, it will be great.
Carpet Tile Limitations
Water sensitive

. Okay, so you do not want to dump gallons of water into your garage if you're going with carpet. If you're keeping boating or fishing equipment in there, it may not be the best choice. Rubber and traditional garage flooring options are designed to handle water. Carpet, unfortunately, is not.

Installation

. While interlocking carpet tiles and peel and stick carpet tiles are a cinch to install, other options require an installation professional, which can mean extra time and money.

Not suitable for cars

. I mean, we get that by now, yes? Don't park on it, people!
Related content –> 2017 Carpet Trends
Other Flooring Options
Really, if you're not planning on parking your car in there, you can put down just about any flooring option. My suggestion? Why thank you for asking!
I suggest if you want a home flooring look in your garage, go with vinyl flooring. Even better, go with a waterproof core luxury vinyl flooring. They are designed to stand up to harsher environments, water, flooding, high traffic, the works.
Think vinyl is from the '70s? Think again! Many of the wood and stone looks you see every day are secretly vinyl flooring. I know. But look. You'll see what I mean.
Related content –> 2017 Vinyl Flooring Trends
How to Choose
So I just gave you like a million options, right? Well, more like 6, but I understand it still feels like a lot. And it's a big decision. It's not like choosing a toothbrush.
Here are a few things I recommend taking into account.
Garage use

. As I mentioned, some flooring options are appropriate for traditional use and some are not. Check out each option and make sure it's appropriate for your application.

Installation – DIY or no?

If you plan on installing yourself, some options are easier than others. Make sure you check out the product specs and make sure it is DIY-friendly.

Budget

. These options range from about $0.50/square foot to $6.00+/square foot. That is a huge difference. Make sure you know your budget ahead of time and try your best to stick to it. If you happen to fall in love with garage floor tiles and they're a little outside of your budget, that's okay. Just make sure you can go for what you want without leaving you with no garage door. Also, don't hesitate to call us and let us help you find something for your budget. I like to think there is always a solution, even if we don't know it exists just yet.

Aesthetics

. The fun part! Make sure you like the way your floor looks. You're the one who has to stare at it.
---
Ready to get started? Order free samples of our garage floor tiles, garage flooring rolls, rubber flooring, carpet tiles or vinyl flooring today.
Follow Us