2022 Carpet Trends: 25 Eye-Catching Carpet Ideas
With all the hard surface flooring out there, is carpet still trendy? Regardless of the latest upgrades and innovations of hard surface flooring, carpet remains one of the more popular flooring options out there.
To make sure carpet is just as beautiful and functional as other flooring options, carpet manufacturers are using technology to their advantage, creating popular patterns and jaw-dropping new features. 
It's time to stay ahead of the trends and start looking toward a new year of opportunities and the latest in carpet innovations. So, hang on tight, and let's explore the 2022 carpet trends filled with some incredible ideas, looks, textures, and more.
"Carpets and rugs are already seeing a resurgence in popularity, and this will become even more the case as they offer homemakers the chance to really showcase strong design statements – especially in vibrant colors – with the ideal being handmade rugs that are truly one-of-a-kind." – Jamie Sanford, Home Flooring Pros
2022 Trending Carpet Types
If you don't know much about carpet, you may not realize that you have several types to choose from. You can have cozy, trendy flooring in a snap, from beautifully convenient carpet tiles to stylish throw rugs to innovative carpet planks. 
Carpet is notorious for being bulky, cumbersome, and nearly impossible to replace. If you damage or stain just one small area with broadloom carpet, you typically have to replace the entire thing. It is the worst.
One main advantage of carpet tile is that it's modular and easily replaceable, making it excellent for families and pets. Did one spot get damaged? No problem! Simply take out that one tile and replace it with a new one. The days of replacing your entire floor are over.
In fact, carpet tiles are the biggest carpet trend for basements. Many come with waterproof options, and they are perfect for temperamental, water-prone basements.
Carpet tiles also allow you to install your carpet yourself or create a cute area rug with ease, especially with peel and stick options. Not to mention, the possibilities for patterns and colors are endless! If you love choices, carpet tiles are for you.
Will the carpet tile trend last in 2022 and beyond?
Absolutely, especially with families. I expect to see carpet tiles continue to grow from being primarily a commercial trend to becoming popular in homes.
What, you thought planks were just for hard surfaces? Think again! Carpet planks are the latest innovation in the carpet industry and are predicted to make a HUGE impact in 2022. 
Carpet planks are very similar to carpet tiles. The only difference is the shape. They still have an incredible DIY-friendly installation with great water- and stain-resistant features. But now, you can create unique patterns such as herringbone. You don't have to compromise coziness for modern looks anymore!
Will the carpet plank trend last in 2022 and beyond?
Carpet planks are here to stay! With the convenience of installation and style, this type of carpet will be around for decades. 
Well, if you haven't caught on by now, area rugs and carpet runners are in. 
Bold colors and patterns could easily turn tacky with wall-to-wall carpet. These statement pieces tend to do best in smaller doses. That's what's great about area rugs and carpet runners. You can strategically use those bright, bold color and patterned 2022 carpet trends in one statement piece, rather than an entire carpet.
Also, you will see some homeowners use area rugs over carpet to give that popular layered look for a more bohemian vibe. 
But no two area rugs are the same, so let's talk about your trendy area rug options. 
Carpet Tile/Plank Rugs
This makes so much sense, right? The two main challenges with area rugs are that designs are limited and it's challenging to figure out the right sizing for your space.
You can create your dream area rug and create a custom size to fit your space perfectly with a carpet plank rug. Also, they often end up being less expensive than traditional area rugs. 
With the rise of DIY home projects, carpet tile rugs are especially timely right now. They'll be the most popular with younger homeowners looking to take a bigger part in creating their own style and decor.
Handmade Area Rugs
Taking originality and control one step further, the hottest area rug trend in 2022 will be specially crafted handmade rugs. I mean, how can those not take off?
Homeowners want to know where their floor comes from and trust the source. Purchasing a handmade piece makes things personal. It's like when you buy something made just for you from a small, budding business and it comes with that cute little note about how they appreciate you. Except, on a much higher level. Because they made a rug by hand, that's a commitment. 
While it might be pricey, handmade area rugs are creative, artistic, personal, and perfect for homeowners with a passion for design and individualism. The rest of us are going to gawk and wish we had them in our homes, too.
Vintage Area Rugs
While we love items that come with a history, that's not exactly what we're talking about with vintage area rugs. In 2022, you'll see area rugs that look as though they have lived a long life under a lot of feet. But really, it's a rug that was made to look worn. 
It sounds outlandish, but it's the eclectic vintage look that adds style and personality to your space. These rugs are actually treated with the "vintage effect" in which carpets deliberately lack bold colors and patterns to look aged. This can be done with special dyeing, and the pile is removed industrially. 
If you're looking to add character with an area rug, why not have it look like it has an incredible story behind it? 
Will the area rug trend last in 2022 and beyond?
Yes, area rugs are the perfect solution for hard surface and carpeted floors to add extra coziness and a pop of style. 
But, with options such as handcrafted area rugs, they have the potential to get expensive. This is just not the type of thing everyone can afford. I anticipate that manufacturers will work to replicate these handmade looks to appeal to the masses at a more accessible price.
2022 Trending Carpet Features
As I said, carpet manufacturers are taking advantage of technology to give us an easy, functional carpet that is also cozy. What features in particular are making a splash in 2022? Check it out!
That's right, waterproof carpet. I don't know about you but those are two terms I never thought I'd see together. There has been a pretty big movement in waterproof outdoor carpet over the last decade. Still, the move to fully waterproof indoor carpet has been unheard of.
Until now!
Manufacturers are making an impact with their incredible technology that makes these new carpets 100% waterproof. That means you can now use carpet in any room in the house.
These waterproof carpets won't soak up the water and stain or get moldy. Instead, you can easily clean up any liquids in seconds without them soaking in for the long haul. Even better, it's not just broadloom carpets that are waterproof. You can get carpet tiles, planks, and area rugs that are 100% waterproof as well!
Although only a few manufacturers carry waterproof carpets, my hunch is that other manufacturers will jump on board, and, within the next decade, you'll see waterproof carpets all over the place.
Will the waterproof carpet trend last in 2022 and beyond?
Yes. This trend is here to stay because a waterproof carpet is way more functional than a traditional carpet. But it will be a slow surge.
The thing is, this technology is so new that the floors still come with a pretty hefty price tag. As technologies advance and more manufacturers jump on board, pricing will get more competitive, and then waterproof carpet will take off.
Oh, you're worried about your carpet getting nasty stains on it over time? Don't be! There's now carpet that is resistant to stains. Be it an accidental spill, or a pet having an accident, you can rest easy knowing your carpet can handle it. 
With fibers that are coated to repel any stains, all you have to do is blot away the spills, and you're good to go. In 2022, your carpets can be stain-free!
Will the stain-resistant carpet trend last in 2022 and beyond?
This trend will absolutely last. Between kids, pets, and general life, a stain-resistant carpet can save a lot of time and effort. I anticipate more manufacturers will be creating stain-resistant and perhaps stainproof carpet in the future!
Nowadays, most homeowners and businesses tend to care a lot about the brands they purchase from and how their purchases impact society, the environment, and more.
That's why carpet manufacturers started creating products that are not only durable but also environmentally friendly. With carpets made from recycled water bottles, recycled synthetic fibers, and much more, 2022 wants you to have a sustainable carpet you love!
Let's talk about the options for sustainable carpet. 
Recycled Carpet
The recycled flooring trend is hot all around this year, and carpet just happens to be at the forefront of the environmentally responsible flooring movement.
Because "green" or eco-friendly flooring is so big right now, almost all carpet is now being made from recycled materials, at least in part. You'll see various types of recycled materials, but one of the most innovative ideas is Mohawk's Air.o carpet. These unique carpets are made using recycled plastic bottles that do not compromise the comfort or durability of your floor as it's also stain-resistant. 
Sisal Carpet
Sisal carpets are sustainably sourced from the woven plant fibers of the agave sisal. This fantastic, eco-friendly carpet has a rope-like texture that adds a unique, homey look to any space.
Both natural sisal and sisal blend carpets are highly durable. They can hold up in heavy traffic areas without any problem. For extra stain resistance, choose an option with a sealing or fire-retardant coating.
Jute Rugs
Plant-based flooring is taking off this year! Case-in-point: jute rugs and carpets. Woven from the same plant fibers that often make burlap, jute rugs are a great indoor decor option.
These thick, tightly wound rugs are pretty durable in low-traffic areas, but they won't be a good fit for really hectic areas. They don't require any special treatment – vacuum as you would with any other rug. Jute is pretty absorbent, though, since it's a plant fiber, so avoid lots of moisture and areas where stains are more likely.
Will the eco-friendly carpet trend last in 2022 and beyond?
If there were ever a sure thing in the world of trends, this would be it. I predict consumers will only demand more sustainable and recycled materials and environmentally responsible flooring options for the next several decades. 
So much so that just putting an eco-friendly floor in your home could increase the resale value and reduce time on the market.
2022 Trending Carpet Themes
We just got done talking about carpet colors and pattern trends for 2022. What else can we talk about? 
The theme ties everything together. For instance, in your living room, you probably have a certain vibe or theme you're going for. Be it modern, bohemian, coastal, or retro, you have a certain aesthetic you want. That's where carpet themes come into play.
In the year 2022, the theme is simple. Express yourself. These carpet themes will help you do just that. 
Maximalist Carpet 
We've all heard of minimalism, right? Well in 2022 consumers are wanting the exact opposite. Maximalism is a practice that is inspired by living out LOUD with bold patterns and colors. 
This type of carpet is meant to express your style and uniqueness through your flooring. It's confidence, it's beautiful, and it's all the rage for 2022. Gone are those monotone carpets and walls. Instead, picture pops of color, bold carpet patterns, cool wallpaper, and everything you love stylishly put into one room. 
Will the maximalist carpet trend last in 2022 and beyond?
This trend will last for a few years at best. While it is awesome to live your extravagant life throughout your home, like trends, you're changing every day so the patterns and colors you love now will probably change. 
Modern Carpet 
If bold and bright isn't really the move for you design-wise, have no fear! The modern style is here!
Clean, simple, and classic, modern carpet is typically one earth-tone color that creates a cozy, pretty backdrop for your room. Material like sisal and jute will give your space a natural vibe so you can create a beautiful modern room with furniture and decor. 
For a more relaxed, peaceful atmosphere, modern carpet is all the rage. 
Will the modern carpet trend last in 2022 and beyond?
Because this trend is so subtle and understated, it will more than likely last for decades. Clean and simple always does.
2022 Carpet Color Trends
Carpet color trends are completely different than any other surface. The hard surfaces are all about natural wood looks, so the color options feel limited. Trends in carpet colors are the opposite. Expect to see bright, bold colors, cool, subdued blues, and everything gray. 
Bold Carpet Colors
Homeowners are trending towards statement colors with their carpet. Since carpet is not typically a whole-house flooring these days, you can make a statement. This is especially true with area rugs.
Jewel tones, oranges, purples, and multi-colored carpets and rugs are popping up all over the place. Maximalism is in, so your carpet can make a splash! 
Although at one time, flooring was intended to be a neutral backdrop for the rest of your space, homeowners, particularly younger demographics, are turning that idea on its head exploring the idea of incorporating carpet into their design rather than designing around it.
Will the bold carpet trend last in 2022 and beyond?
Yes and no. In area rugs and other small, statement places, this carpet design trend will thrive! But as a modern wall-to-wall carpet trend, you have to be strategic with bright bold colors as it can borderline on too much.  
Is there any color more calming and serene than blue? Adding a touch of color without overwhelming the space, cool blue carpets are a color trend I can stand behind.
While the bright, bold colors can make a beautiful, strong statement, they can also be a lot to work with if you're not a designer. Or, even if you are.
Blue is a nice transition out of the norm of neutral carpets with enough subtlety to appeal to multiple demographics. It works perfectly with trending gray decor and is neutral enough to not pigeonhole you into one design concept.
Will the blue carpet trend last in 2022 and beyond?
Yes, particularly blues with a hint of gray. A subdued blue is easier to work with from a design standpoint. 
While most people think of the gray flooring trend in gray wood and wood-look flooring, gray is also popular for carpet right now, too. Traditional neutral colors like beige are out and gray is the new neutral, adding a gorgeous, contemporary look to any room.
Gray has quickly become the most popular trend, not just for flooring, but for homes in general. Gray cabinets, gray doors, you name it. And every shade of gray is still hot and trendy in the home. For your floors and decor.
Even better? If you go with gray, when you choose carpet colors, you can choose just about any shade and still be in style. Even once out-of-date dark gray carpeting is making a comeback.
In addition to looking chic and trendy, gray carpet sets the tone of a cool, contemporary space. It gives you a neutral backdrop for decorating in virtually any color. Aquas, greens, bright bold colors or even black and white – they will all go with your sleek gray carpeting.
Will the gray carpet trend last in 2022 and beyond?
Absolutely! Gray will be hot and trendy for decades to come. 
Okay, so this is one of the coolest things happening in the carpet world! You don't have to choose one color for your carpet, you can have them all! 
In carpet runner trends and area rug trends specifically, you will see bright, bold colors. Whether you're looking for an area rug for your kids' room or going the maximalist route for decor, a multi-color area rug can give your floors an eye-catching statement. 
Will the multi-color carpet trends last in 2022 and beyond?
As a statement piece, you bet! But if you're considering doing a multi-colored wall-to-wall carpet, I wouldn't count on it. 
2022 Carpet Layout and Pattern Trends
In 2022, you will see a combination of solid, traditional carpets with the up-and-coming contemporary carpet patterns in bold, eye-catching designs. While traditional isn't going anywhere, fun patterns are becoming increasingly popular, particularly among young homeowners.
The days of boring broadloom carpets are over. One of the biggest carpet industry trends is a modern patterned carpet.
Inspired by maximalism, Moroccan trellis designs, reminiscent of the also trending arabesque tiles, will be one of the hottest trends this year. I also anticipate plenty of hexagon pattern carpets and even some new, creative patterned wall-to-wall carpeting.
Will the geometric carpet trend last in 2022 and beyond?
Well, I don't see any reason why the more subtle, classy patterns can't stay current. Big, bold patterns, however, will likely go out of style in the next 5-10 years.
At least, until they are revived in another 30.
When it's time to make a big statement in an otherwise bland space, nothing says "ROAR" like a cheetah, zebra, or giraffe print. These patterns aren't just for the kids' room. Spice up your office space with a sleek, sophisticated print, or create a fun conversation piece for visitors in the living room.
The choices don't end there. You can go big with a full coverage carpet, or moderate your wild urges with a smaller area rug. Whatever you choose, you won't be wrong. Just follow your instincts!
Even better, all those bold patterns are perfect for distracting eyes away from stains and dirt. Haven't rolled out the vacuum in a few days? No problem. Your animal print has got you covered.
Will the animal print carpet trend last in 2022 and beyond?
Probably not, or at least not for long. This is a big, bold choice. Some people might love animal prints in their homes forever! But most won't. If you have plans to sell your home anytime soon, I recommend you choose something a bit less adventurous.
Florals? For carpet? Groundbreaking. 
But seriously, it is! Bold floral patterns are back and better than ever with a new, neutral twist. While you can still find a brightly colored floral carpet, the latest craze is a gray carpet with intricate floral designs.
The muted color creates a slightly vintage look. Plus, that neutral backdrop lets you mix and match loud colors and fun patterns together in unique combinations. 
Will the floral print carpet trend last in 2022 and beyond?
Floral carpets will never go away completely. Sure, they may move up and down on the trend lists, but they'll always be a classic. Carpet + detailed floral pattern = a match made in interior design heaven.
Similar to broadloom carpet shapes, homeowners are using carpet tiles to create shapes and designs through the layout of their tiles. This is especially popular in businesses but is sneaking into home carpet design trends, as well.
In 2022, you'll see a lot of mixing and matching colors and patterns to provide unique, one-of-a-kind looks.
Will the carpet tile pattern trend last in 2022 and beyond?
I predict this look will stay current in businesses and homes alike for years to come. They're too convenient not to!
Why be kind of extra, when you can be extremely extra in 2022? With carpet planks, you can have the famous herringbone tile pattern in your carpet! Be it an area rug, or a wall-to-wall installation in your room, carpet plank patterns are that additional pop of personality you want in your flooring with coziness. 
Will the carpet plank pattern trend last in 2022 and beyond?
I predict the carpet plank pattern will last in most commercial spaces for decades to come. As for residential properties, this trend will last for a good 5-10 years. 
2022 Trending Carpet Textures
A carpet's texture can be what sets it apart from others. You can get different designs within your carpet based on how manufacturers treat the carpet's fibers. Which makes the carpet unique and eye-catching, while still feeling great underfoot. 
Plush Carpet
Softness is exactly what makes carpet special, and that ultra-softness is something hard floors just cannot compete with.
People started to see carpet as high-maintenance with the trapped dust and allergens, along with the need for constant vacuuming. So, the plush carpet lost its spark for a while. But now, with life-friendly features, such as stain-resistance, and waterproof fibers, plush carpets are BACK!
That's why we are seeing a massive surge in carpet buying trends going back to thick, luxurious, plush carpeting.
Will the plush carpet trend last in 2022 and beyond?
Yes. You'll see lots of the plush carpet trends in new homes in cool climates.
It may become more and less trendy throughout the years, but until they come up with an equally comfortable alternative elsewhere, this trend isn't going anywhere for good!
Cut and loop is exactly what it sounds like: carpet that combines cut carpet fibers and looped carpet fibers. 
photo via Shaw Floors
When you combine cuts and loops, you can create unique, stylish patterns and textures. You've probably seen this a lot in rugs. When you run your hand along the rug and you can feel the contrasting textures? That is usually cut and loop carpeting.
Patterns are super in right now across all floor types, and these cut and loop patterned carpets have been going strong for several years now. 
Will the cut and loop carpet trend last in 2022 and beyond?
Because it's a unique texture and patterns that are different from your run-of-the-mill carpet, we believe cut and loop carpet will last for the next decade or so.
Frieze is also known as "twist" carpet, and it refers to carpet fibers that are twisted many times, making them look almost curly.
The new, updated frieze carpets inspired by shag carpet texture are super cute and tremendously popular. A little time and technology go a long way and, now, carpet manufacturers have taken an outdated fad and come up with a trendy new twist. 
Will the frieze carpet trend last in 2022 and beyond?
Frieze carpets look a lot nicer than old-school shag carpets, plus they give a more relaxed version of carpet. For that reason, I believe the frieze carpet will be trending for the next 10 years. 
Ribbed carpet is exactly how it sounds – little ribs of texture throughout the carpet. 
Over the last several years, ribbed carpet has been quite popular in offices. This sleek, clean, modern carpet trend offers an upscale carpet look that is more business and less homey. Even though I would call ribbed carpet tiles more of a commercial carpet trend, you will see it used in lots of home offices, closets, and more areas around the home in 2022.
Will the ribbed carpet trend last in 2022 and beyond?
We don't expect this carpet texture trend to stay around in homes forever, and we anticipate that within the next few years, ribbed carpet will be back to more of a business look.
2022 Carpet Trends by Room
To make sure you're styling in every room, let's go over the carpet trends in each room of the home. 
The bedroom is probably the most popular room in the home to use wall-to-wall carpeting. I mean, it's supposed to be your comfy, cozy oasis. While other rooms in the home are often designed with guests in mind, your bedroom is the place that is, typically, just for you.
The latest carpet trends for bedrooms include many of the trends mentioned above. You'll see primarily plush carpets along with an influx of environmentally responsible carpeting.
Popular carpet colors for bedrooms include grays and cool blues. You'll see less bright bolds and more cool and calming colors. Perhaps an area rug to add in some of your personality. 
Will the bedroom carpet trend last in 2022 and beyond?
As I said, carpet in the bedroom is one of the more popular applications out there. For that, this trend will last for years to come. 
For family movie nights and a cozy place to cuddle up, nothing beats the soft, soothing feeling of a carpeted living room.
Here, you can go one of two ways: you can go for the simple, understated gray living room carpet, or you can get on board with the fun, bold patterns, and colors. This is one of the main rooms people will see, so many young homeowners are choosing to go a little crazy, have a little fun.
In 2022, living rooms will see lots of the layered area rug trend along with waterproof carpet, gray carpet, and carpet patterns.
Will the living room carpet trend last in 2022 and beyond?
If anything, area rugs in the living room will last for many decades. Because we do so much living in the living room, hard surfaces are seen as the easier option, so unless you're in an apartment, area rugs in the living room will be the lasting trend. 
For a long time, carpet was off-limits in basements. I mean, we all know basements are prone to floods, and water damage and carpet are….well, not super awesome in that type of environment.
That all changed with the surge of carpet tiles. Not only are there lots of options for waterproof carpet tiles, but they are also the most effortless floor to replace. If one carpet tile gets damaged, you can remove it and replace it with a sparkly new one. Perfect for the high-maintenance basement.
Now, with the addition of waterproof broadloom carpeting, you will see a surge in plush, luxurious carpet back in basements across the country.
Will the basement carpet trend last in 2022 and beyond?
The tremendous technological advances of carpet make it easier to convert your basement into a cozy living space. That's why I foresee carpet in the basement being a lasting trend. 
Staircase Carpet Trends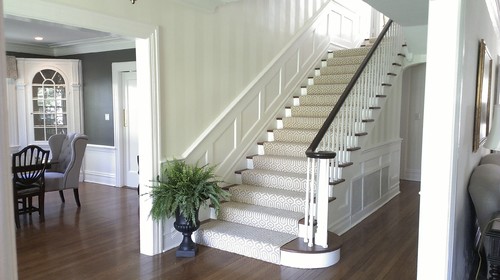 The days of ugly, worn beige carpeted stairs are behind us. Although most people think hard surfaces are trendy for stairs these days, designer carpet runners are jumping back into the limelight.
The latest carpet trends for stairs include intricately designed carpets and carpet runners. If there's any place to let the details shine, it's your stairs!
Adding a high-end carpet runner to your stairs keeps them cozy while elevating your interior design. Win, win.
Will the staircase carpet trend last in 2022 and beyond?
Carpet runners are here to stay, for sure. They're functional and easy to replace. 
Conclusion
As you can see, a lot is going on in the carpet industry right now. There are plenty of unique options trending that will likely stick around for years to come, which means your possibilities are endless.
If you want something hot that will last for the long haul, we recommend going soft, plush, and durable. Even better if it's waterproof!
Follow Us