10 Kitchen Ideas We Love
By Ari Ziskin

Published: April 20, 2015 | Updated: June 24, 2020

From storage to decor, 10 Kitchen Ideas We Love will give you tons of inspiration to build you dream kitchen. Here are 10 of our favorite kitchen ideas from around the web.
The kitchen can really make or break the look of your home. Whether you love to cook, or use your oven as storage, we have put together 10 inspiring kitchen ideas from organization to style to help give you some ideas on how to make the most of your kitchen.
1. This vibrant, bright white kitchen from Pinch of Yum:
We love the whole look of Lindsay's kitchen and she goes into detail about everything she did during the remodel, but we especially love all of her storage solutions!
2. This Sunny Kitchen Makeover from The Palette Muse:
Wow! It's amazing how much some sunlight can brighten up the room. We love the natural light, and the cheery space!
3. This DIY Coffee Mug Display from Shanty 2 Chic:
What a fun addition to your kitchen! Save space and create something cute with Ashley's easy to follow DIY tutorial.
4. This gorgeous, bright white kitchen from Gimme Some Oven: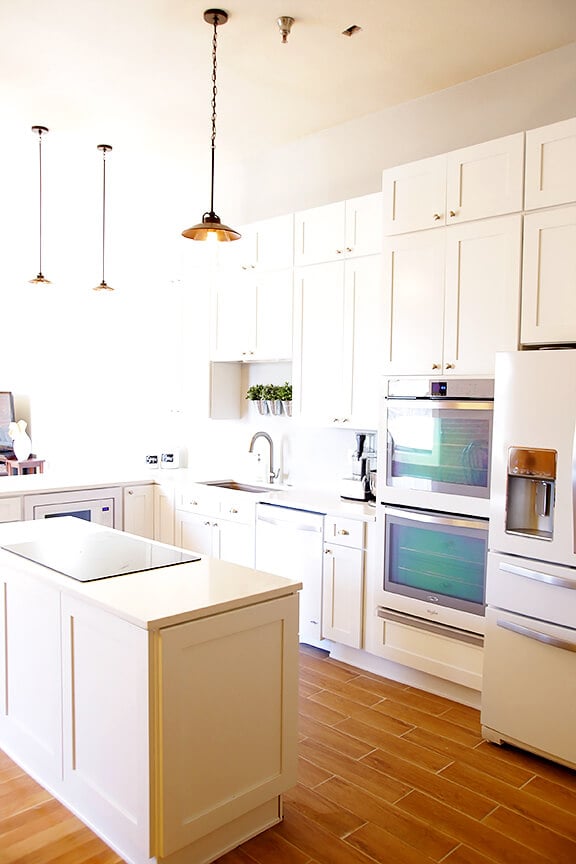 We love the updated look, and the details about Ali's remodel process.
5. This post on How to Choose Your Kitchen Counter from Clean and Scentsible:
We love all the information along with pros and cons that Jenn gives–a great, informative post with some gorgeous, inspirational photos!
6. This DIY Kitchen Utensil Drawer Organizer from Kevin and Amanda:
So simple and so useful! Amanda shows you the step-by-step process photos of how she completed this fun project.
7. This modern kitchen from Manhattan Nest:
We love the use of our rubber flooring in a modern, updated kitchen and we love what Daniel has done with the wallpaper. Here is the post where he gives all the deets on the flooring.
8. This 80's to Awesome kitchen renovation from The Kim Six Fix:
Wow! We can't believe what an incredible job Kim has done–it just goes to show how much you can do on your own without breaking the bank!
9. This tutorial on How to Paint Kitchen Cabinets from I Heart Nap Time:

It's amazing the difference some freshened up cabinets can do in your kitchen, and Jamielyn shows you just how easy it is to do it yourself withthis step-by-step tutorial.
10. This gooooorgeous DIY Country Kitchen from Ella Claire Inspired:
Wow, wow, wow!! We are totally inspired by what Ella Claire did with that small kitchen, and how cute and charming it looks!
Follow Us