6 Beautiful Bathroom Makeovers
By Ari Ziskin

Published: June 22, 2015 | Updated: June 24, 2020

Get inspired with these 6 beautiful bathroom makeovers! Something for every budget and style, with everything you need to get started on your own bathroom transformation.
Whether you just want a small update, or have an entire Pinterest board dedicated to your 17 zillion ideas for your dream bathroom remodel (guilty), chances are you're looking for a little inspiration to make it cozier, more spacious, storage friends, and, let's face it, prettier. You get ready in there every.single.morning so you might as well turn it into a place you love. That's why we've gathered the 10 best-of-the-best bathroom makeovers to get you started.
1. This Bathroom Makeover from Dans Le Lakehouse:
It's amazing how much some new paint and a new style can spruce things up! On first look, it appears that the transformation from before to after has been HUGE, but as you look closer, you can see that it really is an achievable project, and one that won't break the bank either!
2. This DIY Bathroom Remodel from Bigger Than the Three of Us: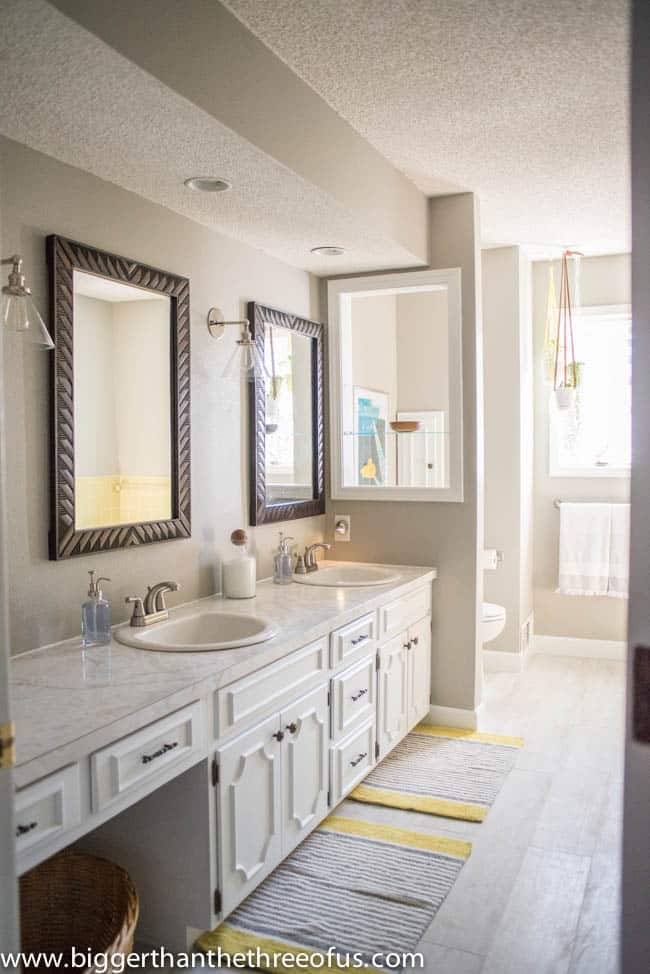 Is there any more perfect bathroom color combo than yellow and grey? So warm, bright and sunny. This is an other big transformation from a totally achievable project. The new look of the cabinets and nixing the wallpaper (I'm still not sure what they were thinking in 1970 with the wallpaper thing…) gives this bathroom a whole new feel!
3. This Bathroom Update from Place of My Taste:
This one is a pretty big project, but the outcome is well worth it! Just scroll down to that before picture, and you will fully appreciate this stunning update.
4. This Bathroom Makeover from The 36th Avenue:
My favorite part? Those photos! I've never put artwork in my bathroom, and now I want to! This one is more of a design/style change, but it looks like the room grew up from childhood to fancy adult!
5. This Bathroom Makeover for Less Than $300 from Kojo Designs:
Less than $300?? Look at the difference! Super impressive.
6. This Modern Bathroom Remodel from Home Coming:
THAT SHOWER. Sign me up.
Okay, your turn! Share with us some of your favorite bathroom makeovers, or share your own!
Follow Us